SET-FREE Mini
SET-FREE mini Inverter-Driven residential VRF is designed for home use. The series have advantages of super comfort, healthy and energy-saving, stable and reliable performance. The indoor units can match well with the indoor decoration. The advanced SET-FREE mini which offers 4HP,5HP and 6HP. are widely used in departments , villas etc.
Hitachi Patented High Efficiency Scroll Compressor and Patented Precise Inverter Technique
Hitachi promoted the first high-pressure chamber scroll compressor in the industry which has the function of interior oil separating .At the same time, considering the high pressure characteristics of R410A refrigerant ,asymmetric scroll disk was developed and bearing structure was strengthened which improved efficiency and reliability of the compressor.
Also, the operating speed of DC motor in compressor and freely relating to the variability of system capacity and accurately with 1HZ increments.
The 2-stages Oil Separating Technique
SET-FREE mini system adopts Hitachi proprietary compressor which has high efficient function on oil separating to conduct the first stage oil separating. Meanwhile, oil separator is adopted as the second stage oil separating. Therefore the system can operate safely and reliably.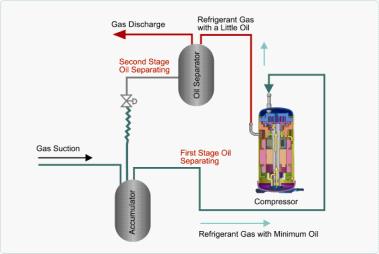 Precise Room Temperature Control
SET-FREE mini system adopts thermistors for indoor intake air temperature ,indoor discharge air temperature and remote control switch. In this way ,the system can maintain the room temperature within 0.5 ? of setting temperature especially for sensitive groups such as elder children etc.
Wide Range Operational Temperature
Operate at a wide-range temperature with the lowest degree of -20?.Heating performance in winter is improved.
1 Actual piping length:75 m
2 Maximum height difference between outdoor and indoor units: 30 m
3 Height difference between highest and lowest indoor units: 15 m
4.Maximum distance between first branch and indoor units: 30 m
Various Model Types, Outdoor Units Can Freely match Different Types of Indoor Units
Wide capacity range of outdoor units enable free model combination relating to the actual condition of specified building. There are various types indoor units for selection. Planners can choose appropriate type and capacity indoor units according to indoor decorations and functions.
Compact Size and Space-saving
Facilitation and flexibility on installation are further advanced by adopting outdoor units' light weight and compact design. SET-FREE mini system can be installed on a staircase landing or balcony on each door.
High Efficient and Environmental Refrigerant R410A
The adopted R410A refrigerant has Zero Ozone Depletion Potential which is friendly to environment.
Thirdly, dehumidification and Anti-bacteria, More Healthy
Anti-corrosion Treatment(Optional)
The anti-corrision treated outdoor units have been designed to provide corrosion resistance against acid and salt corrosion.
They have special anti-crossion treated heat exchanger,and adopt galvanized steel plates whiche provide higher corrosion resistance and increased adhesion capability for painting.
Specification