SET-FREE Front Flow
SET-FREE Front Flow Series is the first front-flow multi-split air-conditioning with large capacity in the industry. In adhering to the Hitach 20 years' leading technology in commercial air-conditioning ,taking into account more requirements of small building space, the compact and light bodies of SET-FREE Front Flow Series provide more convenient and good-looking air-conditioning solutions for customers, which saves more space.
Firstly launch the high capacity front flow inverter-driven multi-split outdoor units in the industry
Firstly launch 8HP-12HP front flow inverter-driven outdoor units. Facilitation and flexibility at installation are further advanced by adopting outdoor units lightweight and compact design compared to the current top-flow model.

The compact design greatly improves flexibility in installation
With a width of only 390mm,the SET-FREE FSNMQ can be installed on a staircase landing or balcony on each floor.
DC Fan Motor
The smooth rotating fan motor with low vibration reduces the noise generation.
Super High-stream Fan
Super High-stream fan of 544 mm cuts down the noise.
Low Pressure Loss Air Outlet Grille
New Fin with Less Pressure Loss
The draft resistance is reduced by 20%.Both high-efficiency and low noise operation are simultaneously satisfied.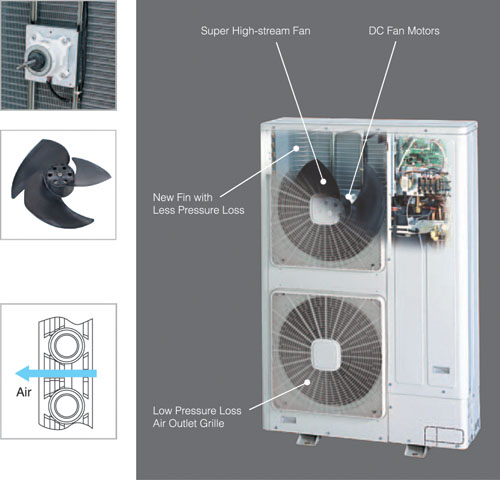 Various Model Types, Outdoor Units Can Freely match Different Types of Indoor Units
Wide capacity range of outdoor units enable free model combination relating to the actual condition of specified building.
Hitachi Patented High Efficiency Scroll Compressor and Patented Precise Inverter Technique
Hitachi promoted the first high-pressure chamber scroll compressor in the industry which has the function of interior oil separating .At the same time, considering the high pressure characteristics of R410A refrigerant ,asymmetric scroll disk was developed and bearing structure was strengthened which improved efficiency and reliability of the compressor.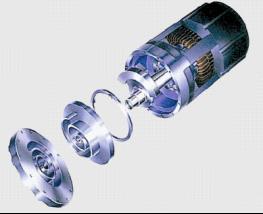 Also, the operating speed of DC motor in compressor and freely relating to the variability of system capacity and accurately with 1HZ increments.

The piping can be designed and constructed up to a total piping length of 250m.
Anti-corrosion Treatment(Optional)
The anti-corrision treated outdoor units have been designed to provide corrosion resistance against acid and salt corrosion.
They have special anti-crossion treated heat exchanger,and adopt galvanized steel plates whiche provide higher corrosion resistance and increased adhesion capability for painting.
Specification