IVX mini
IVX mini Inverter-Driven multi-split air conditioning system, as the representative of the Hitachi leading technology, adopts a unique rare earth permanent synchronous motor and asymmetric scroll discs to ensure more stable and reliable system operation. It offers 3HP, 4HP and 5HP.
Optimized System and Energy-saving
High efficiency benefits from DC inverter compressor, DC fan inverter DIP-IPM and heat exchanger with super-cooling circulation.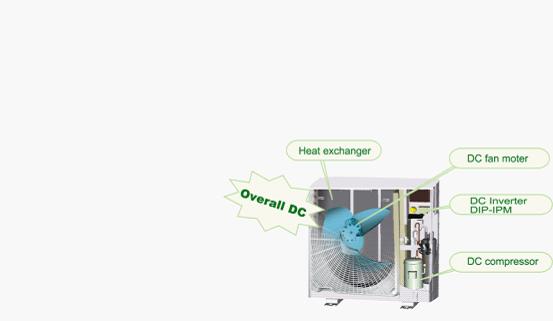 Hitachi Patented High Efficiency Scroll Compressor and Patented Precise Inverter Technique
Hitachi promoted the first high-pressure chamber scroll compressor in the industry which has the function of interior oil separating .At the same time, considering the high pressure characteristics of R410A refrigerant ,asymmetric scroll disk was developed and bearing structure was strengthened which improved efficiency and reliability of the compressor.
Also, the operating speed of DC motor in compressor and freely relating to the variability of system capacity and accurately with 1HZ increments.
Compared with conventional and multiple piping types, IVX mini series have the advantages as follows:
Less piping joints
Save installation space
Save pipe materials
Easily troubleshooting
Top-Class Quite Operation
Adoption of New Bell-mouth
The new bell-mouth(resin mold)minimizes flow friction. resulting in smooth flow and low sound.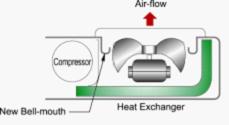 Super High-Stream Fan
Delta-shaped edges reduce fan size and noise.
Individual Operating Function
For individual operating function, up to 5 indoor units can be individually controlled by a remote control switch. Meanwhile outdoor unit adjusts capacity output according to actual air conditioning load. In this way, power consumption will be decreased
.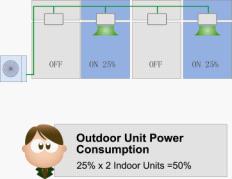 Anti-corrosion Treatment(Optional)
The anti-corrision treated outdoor units have been designed to provide corrosion resistance against acid and salt corrosion.
They have special anti-crossion treated heat exchanger,and adopt galvanized steel plates whiche provide higher corrosion resistance and increased adhesion capability for painting.
Specification