2-Way Cassette Type
Downsizing and weight reduction simplify handing for easier renewal
The length of the 3.0HP is shortened from 1,320mm to 680mm,the light is also shortened, and the volume is reduced by about 50%.The reduced weight of 30kg also makes handing much easier.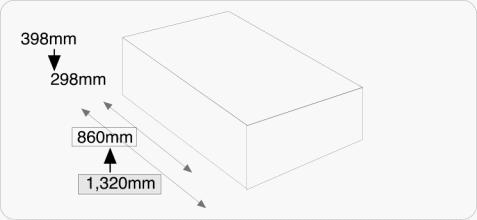 Low-profile design allows installation in a small space inside of ceiling
A compact turbo fan simplifies the structure and reduces the height to 298mm,for easy installation.
Top-class noise control thanks to compact turbo fan
The three-dimensional twisted wings of the compact turbo fan greatly reduce noise, and electromagnetic disturbance is minimized by fan motor absorber.
Hard to get dirty, easy to clean
Auto-louvers are not flocked, thus the unit hardly gets dirty and is easy to clean.
Speed-up tap ensures comfortable air conditioning even when installed as in the high ceiling.
Even rooms with a high ceiling can be comfortably air-conditoned by setting the speed-up tap with the remote control switch.
Specification